Easter is one of the most beloved days in the Christian world. On this holiday the hearts of believers are filled with light and hope, which we want to share with their loved ones. It gives us the understanding that we need to appreciate life, to rejoice in every small moment.
On this day we want to surround ourselves with bright colors and feel the closeness to nature.
The Easter holiday has symbolized the victory of life, goodness and light since time immemorial. To emphasize the sacred, special meaning of this Christian holiday will help the composition of live exquisite orchids.
On Easter days, we come to visit friends and relatives to share with them the joy of this holiday. We bring small cute presents and gather around a big table for a joint meal.
Going to visit your friends and relatives on this day, give them a beautiful flower arrangement of beautiful orchids, because one of the best ways to decorate the interior and the festive table is fresh flowers. Cute compositions with bunnies and eggs will not leave anyone indifferent.
And if you decorate the table or the interior of the room with compositions of orchids with Easter symbols, they not only do not interfere with the holiday, but add a new, joyful note to it. Bright orchid compositions on the Easter table will bring freshness into the house and maintain a festive and joyful mood.
Choose bright colors of orchids – green, pink, white, blue and yellow to fill your home with spring aroma and mood. You can find orchid arrangements of all these colors in our catalog.
How to decorate the holiday table for Easter
Easter candles are a great option for decorating the holiday table. Candles create a special atmosphere of the sacrament of Easter. The festive table will look especially solemn.
We suggest you make your own real candles that will decorate your holiday table. The method is simple and accessible to everyone.
So:
Take empty Easter shells. Wash them thoroughly and paint the inside with dye or gouache.
Take household candles and remove the wick from them, put the wax in an unnecessary pot or jar.
Attach a paper clip to one end of the wick so that when we pour in the wax, it won't float. The other end, twist it onto sticks (you can use pencils for this purpose).
Dip the end of the wick with the staple into the shell, put the stick with the other end coiled on top. The wick should not be too tight.
Melt the wax in a water bath and pour it into the shells. Allow the wax to harden (about 2 hours).
Cut the wick to height.
Decorate the composition to your liking.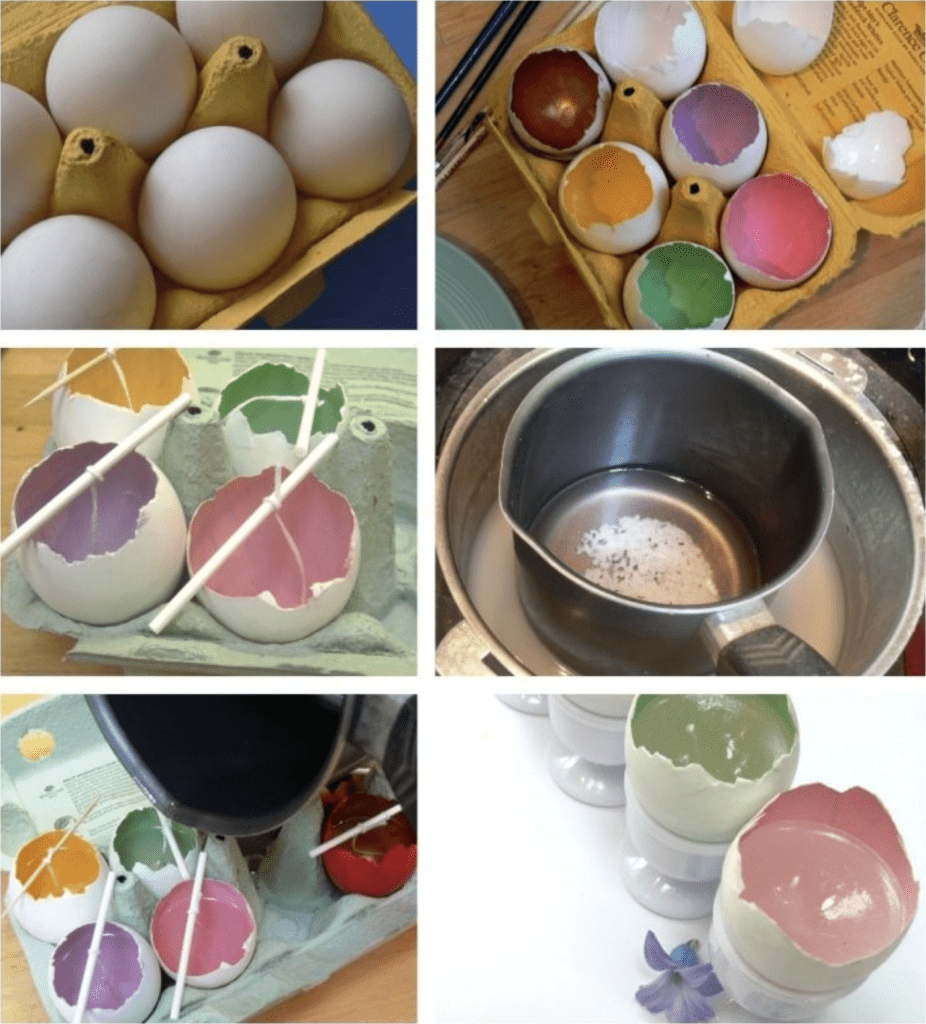 Let your home be filled with comfort, light, kindness and happiness on this bright Easter day. We are sure that our orchids will be a very nice and joyful gift for Easter.
Read also:
Creative Orchid Compositions: The Perfect Gift for Easter